With temperatures in the mid-20s, light cloud cover during the day, and clear skies at night; last weekend was just right for a country drive and some shooting at Billy Farm. The baby galahs in the trees around our shooting shed were close to leaving their nests, and there were plenty of interesting and exotic reptiles around (although we still haven't seen a single snake at the farm). Plenty of flies and mossies too, but in the Wheatbelt that's a given.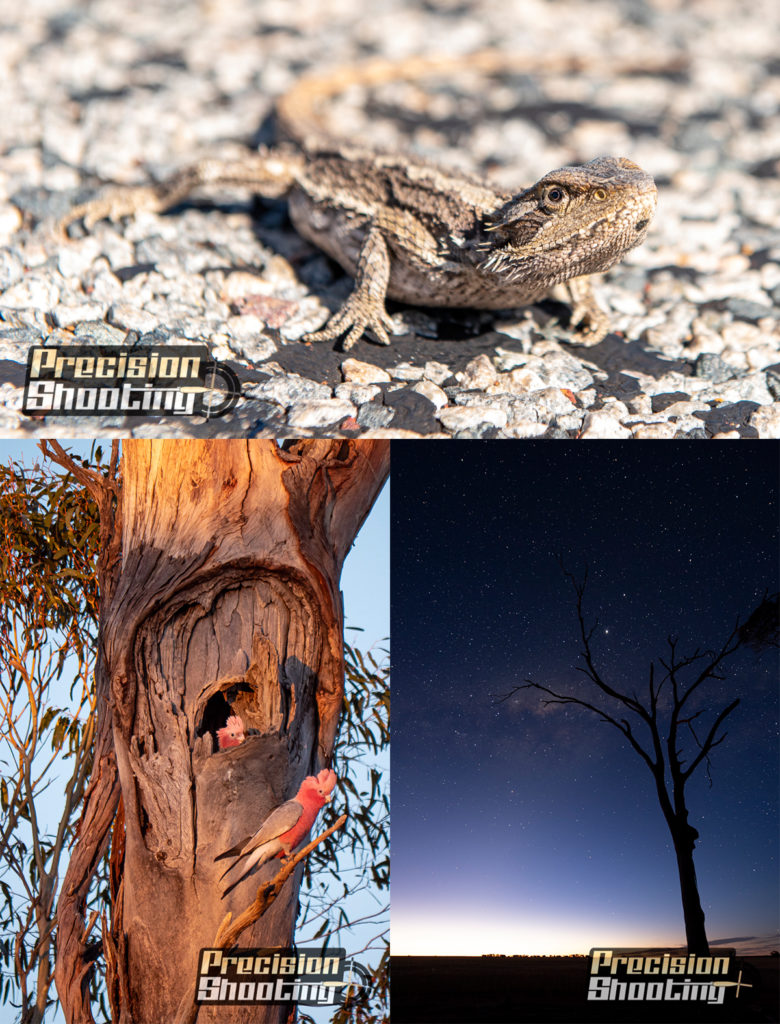 We were there to run our last Marksman training course of the year, and I think our 3 trainees all got a lot out of it. Our new Marksman course has gone from strength to strength since we introduced it two years ago, and we have managed to include skills and techniques from a wide range of shooting styles and disciplines. After setting up their rifles and shooting off the bench we worked on trigger control and breathing techniques, which don't seem so important when you're shooting stationary targets off a bench but really comes into it's own later in the course.
Moving away from the benches we then worked on rapidly engaging targets from a standing position using an Aimpoint red dot sight. For this part of the course we use Zaine's own Merkel RX-Helix hunting rifle in .223, which was much more suitable for shooting unsupported than each of our clients' heavy target rifles.  The Merkel RX-Helix is quite a remarkable firearm to use, with it's swift straight-pull bolt operation and comfortable lightweight stock. We had multiple gongs set up at 40-50m from the shooting position, and by the end of this stage each participant was hitting 2-3 targets out of a 3-round magazine in a short space of time.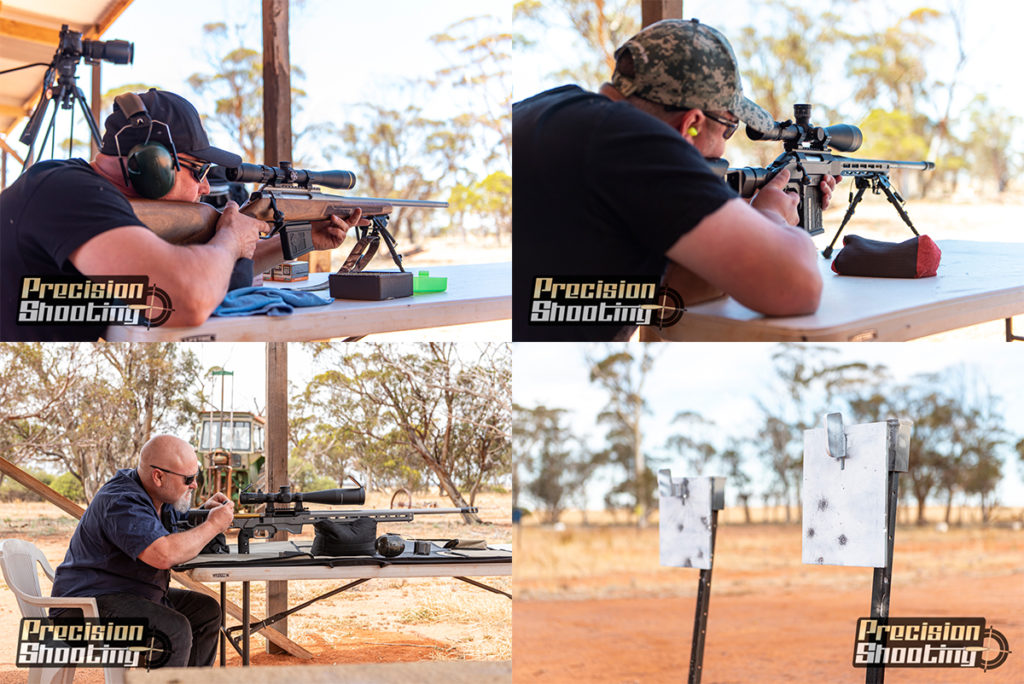 Shooting moving targets with a shotgun is very different to shooting static targets with a rifle and involves a very different technique and set of skills, so to finish up the first day's lessons we got out a clay target thrower and one of our Beaton XBS 1201 Straight-Pull 12ga shotguns, also fitted with an Aimpoint. Learning to lead a moving target and knowing when to pull that trigger can be tricky, but in the end everyone was hitting consistent strings of clays. One participant even brought his own Adler B230 Tactical Straight-Pull shotgun to shoot, and while he was less successful to begin with he did very well after swapping his 36g AAA shells (which have 9 heavy pellets and aren't really meant for this kind of shooting) for our 28g #7.5 target loads.
After finishing the day's shooting exercises we still had a good 90 minutes of daylight on the range, and some of the participants decided to use this time to set up and zero some of their other rifles with our assistance. One trainee had been having some problems with his Savage 10 BA Stealth and we managed to pinpoint what was causing some of these issues, as well as working out some gunsmithing solutions that we will be able to implement back at the shop.
A hearty breakfast cooked for us by Trent complemented the morning's beautiful Wheatbelt sunrise, and after setting up some more gong targets at longer ranges we got straight into the second day's shooting. As each of our trainees were quite competent and we were working through content quickly we touched briefly on some of the skills required for our Long Range training course, teaching each trainee how to use the Applied Ballistics app to hit the targets we had set out at 420m. Each of the rifles brought to train with were more than capable of reaching this far, even the .223 Lighgow LA102 with it's 1:9 twist barrel.
We then went into how to effectively shoot from a low-profile tactical stance, with rifles resting on their sides. This style of shooting is more often seen in combat situations when presenting as small a target to enemy combatants is desirable, but it is beginning to find its way in various shooting events and competitions so we like to include it. Using the scope's windage dial to control elevation and vice versa is certainly unusual and unnatural to begin with!

From there, we went on to discuss different seated and kneeling shooting positions and the advantages and disadvantages of each. There are a few different schools of thought when it comes to this part of the course, and, really, if you're not young and skinny nobody these positions tend to be less popular. It is important to know the advantages and limitations of these positions though, so we had each participant try a few and hit some targets.
To finish up the day's content Trent set up a short course of fire for a 3-gun action match, using our Beaton XBS 1201 Straight-Pull shotgun to engage both airborne clay targets and reactive targets on the ground, Zaine's Merkel RX-Helix to engage steel gongs at 50m in seated and standing positions, and the client's own rifles for hitting gongs at 100m and 200m while supported on the farm ute. 5 positions, 3 firearms, 15 targets. By the time each trainee had run through this the second time their times were down to around 3 minutes and they were getting consistent, repeatable hits on each type of target.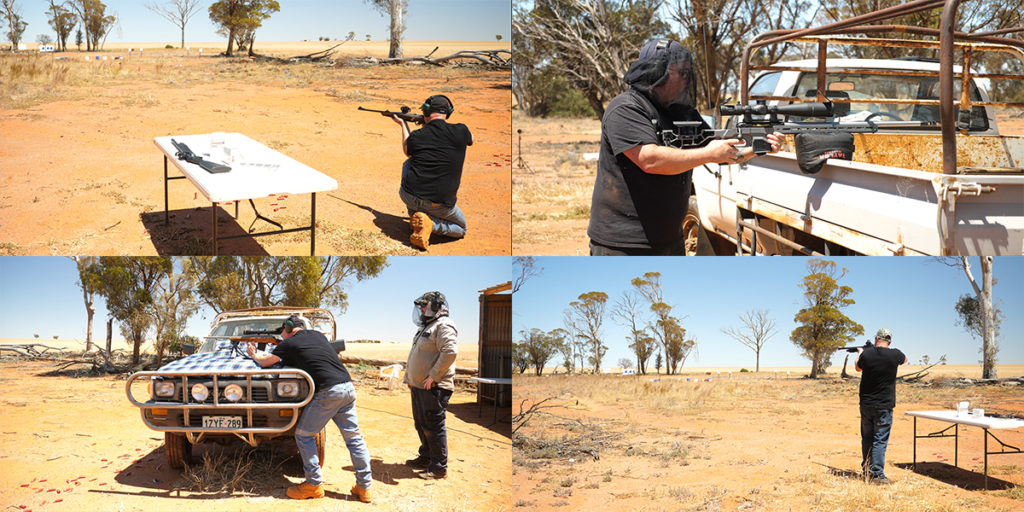 Lots of our clients attend our Precision Shooting Marksman course for a wide range of different reasons. Some are new to shooting and don't know where to start. Some have joined shooting clubs but consistently scored low and wanted to up their game. Some want to attend our Long Range training course and want to ensure they get the most they possibly can out of it. And some just want to come out to the farm to do some shooting. On most courses we can offer at least 11 hours of shooting with our guidance and professional support over the two days, and everyone comes away from it having had a good time and learned lots of practical new skills.
No matter your motivation we can accommodate you! We'll be working out our 2021 course dates soon, so be sure to keep an eye on the Precision Shooting website for more information, and check out our Youtube soon to see some videos of our courses offered!