A couple of months back, Bill, Trent and myself were invited to Nioa trading to attend their Vista Outdoors Dealer Conference at their facility in Brisbane.  So we packed up our stuff, grabbed Jonno for Ray's Sports Power in Albany, and flew the width of this great brown country.
Vista Outdoors, previously known as ATK, is a large USA company that was made a bit larger recently, with it's purchase of Hoppes, Bushnell, Simmons, Primos and Savage.  To announce bringing these product lines into their fold, dealers from across the country were given the opportunity to view the new product lines, meet the company representatives and talk to their local reps about getting stock.
| | |
| --- | --- |
| To make the most of the Thursday/Friday conference we arrived in Brisbane Tuesday night.  This gave us the change to acclimatize to Brisbane weather and time zone over a few beers.  It also gave us a whole day to ourselves – plenty of time to visit Tony and Veronica at Total Solutions Engineering (TSE) – one of the best barrel manufacturers in the country. | |
Tony's facility is impressive to behold and the man is a wealth of knowledge.  We discussed manufacturing barrels from titanium, his extensive barrel rifling tooling and even got a look at a few of his personal firearms.  The barrels he manufactured with integral front and rear sight blocks were particularly impressive.
Back to the hotel and Nioa reps are starting to arrive from different states.  We met up with Whitney from Whyalla, Doug from X -Ring and Steelo and Heidi from Steelo's.  A few more beers and it was time for a snooze before the event started.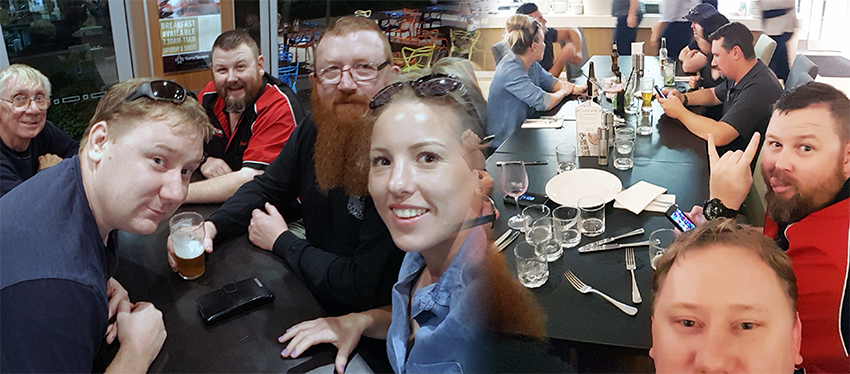 There was a huge focus on two brands in particular – Bushnell and Hoppes.  Simmons and Tasco took a back seat as all the scope lines and rangefinder options from Bushnell were paraded in front of us.  Slinky gave a brilliant presentation on Hoppes, which was deserving since it is the biggest firearm cleaning brand in the world.  Not resting on their laurels, Slinky announced the new Hoppes Black line of cleaning products – something I'm eager to test out for myself.
A regular occurrence at Nioa is to show everyone around their huge facility – reps ran guided tours following the yellow lines around the warehouse.  But as we'd seen it all before we went straight for the 100M indoor range, where they had an automatic firing platform for remote testing firearms.  A quick poke around the gunsmithing area and it was back into the show room to catch up with my old mates Brad Stephens and Michael Cubis.

All in all, it was another awesome show from the guys at Nioa.  Thanks to Rob Nioa and his team for investing so much in the Australian firearms industry.
For more info on any of the new brands that Nioa has picked up, give us a call.  Trent and Renae are all over it.  If you missed our live feeds from the event make sure you like us on facebook.
Zaine Beaton