New Adler Straight Pull Shotgun
The Australian firearms community was set ablaze with excitement last week, when NIOA announced the impending arrival of their latest hot product: the Adler B220 and B230 Straight-Pull Shotguns!
At a glance, this appears to be a modification to their already popular A110 lever action shotguns, but with bolt action shotguns being a Category A firearm as opposed to the Category B of lever actions, obtaining a license for one of these should be simpler than licensing one for the existing Adlers.
At this stage, 3 models are being offered; the B220AW "All Weather", the B220PG "Pistol Grip", and the B230T "Tactical". Each has a 20″ barrel as standard and accepts all the standard Adler chokes, with 3 being included in the box. The B220 models use the familiar tubular magazine used in the A110 lever action and fits 5 rounds, but as a Category A firearm this is extendable and we expect our existing pattern of magazine extender tube we use for our XBS 1201 straight pull shotgun should fit this just fine, giving 7 rounds total for this length barrel.
The B230 Tactical model is definitely the most eye-catching of the three, with the top picatinny rail for optics, ghost ring sights, and the 5 round detachable box magazine replacing the old tube, of which two are included in the box. This too can legally be expanded, so it would be interesting to see what third-party manufacturers come up with!
Possibly the most interesting feature of this new design is that it allows for ambidextrous operation. Although the gun will still only eject from the right side, there are slots for the bolt handle cut into both sides of the receiver and it appears the bolt handle can be removed and used in either side.
As versatile and feature-rich as the B220 and B230 appears to be, it is impressive to see it appear at a price point significantly lower than the existing A110. We expect these to be extremely popular when they arrive; read on to find out more about each model!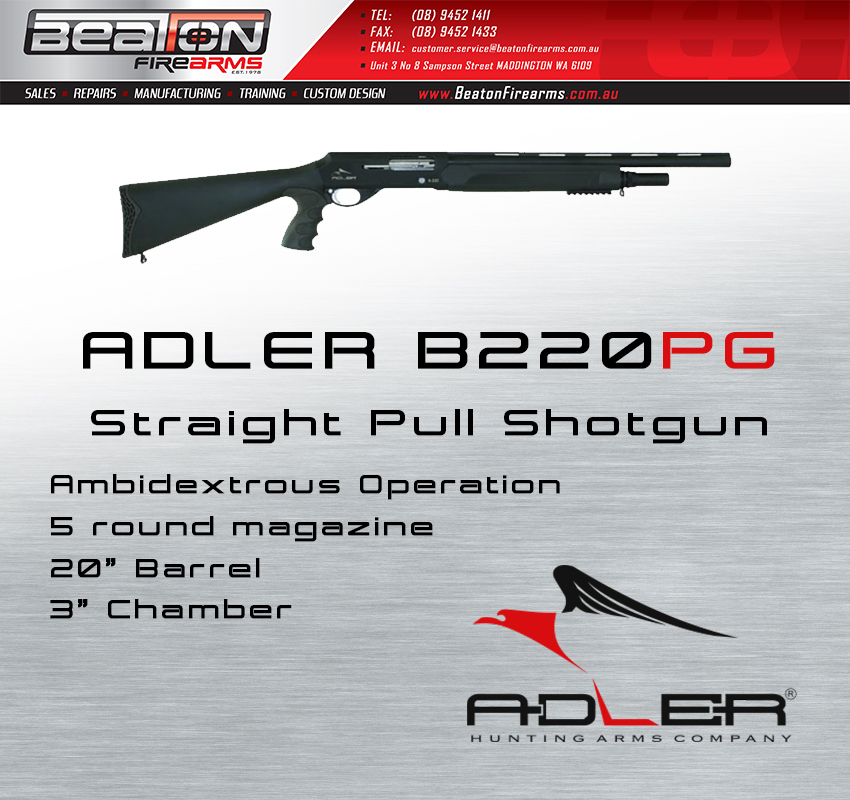 Adler B220PG Pistol Grip
20″ ventilated rib with bead sight
5 round tube magazine
Black synthetic stock with pistol grip & sling swivels
Matte black finish
Now only $630!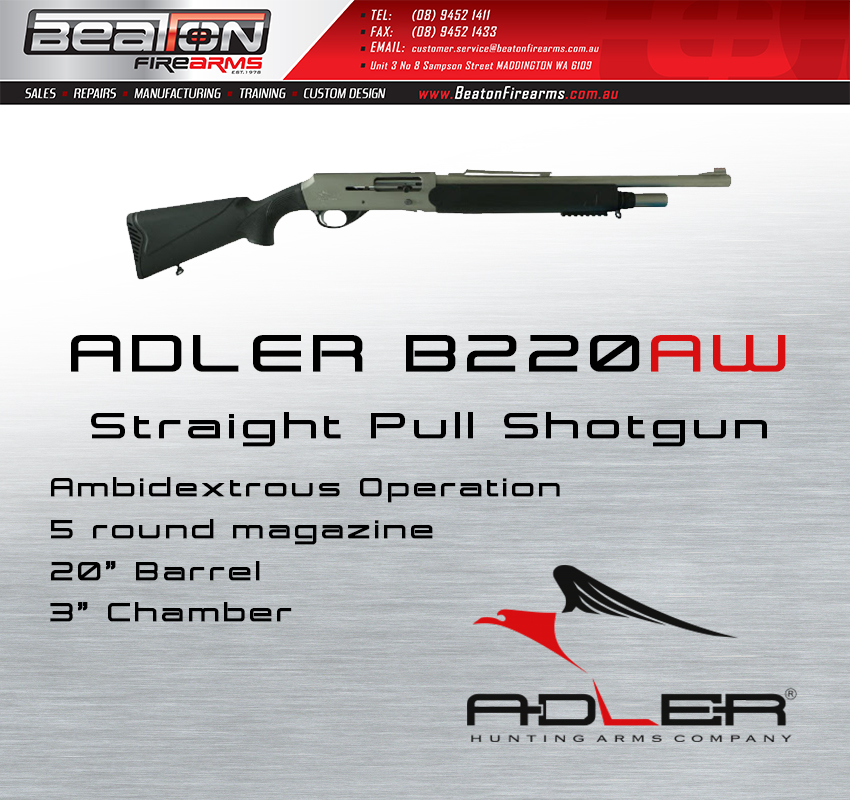 Adler B220AW All Weather
Nickel Cerakote finish
Fibre optic sight
Black synthetic stock with sling swivels
5 round tube magazine
Now only $690!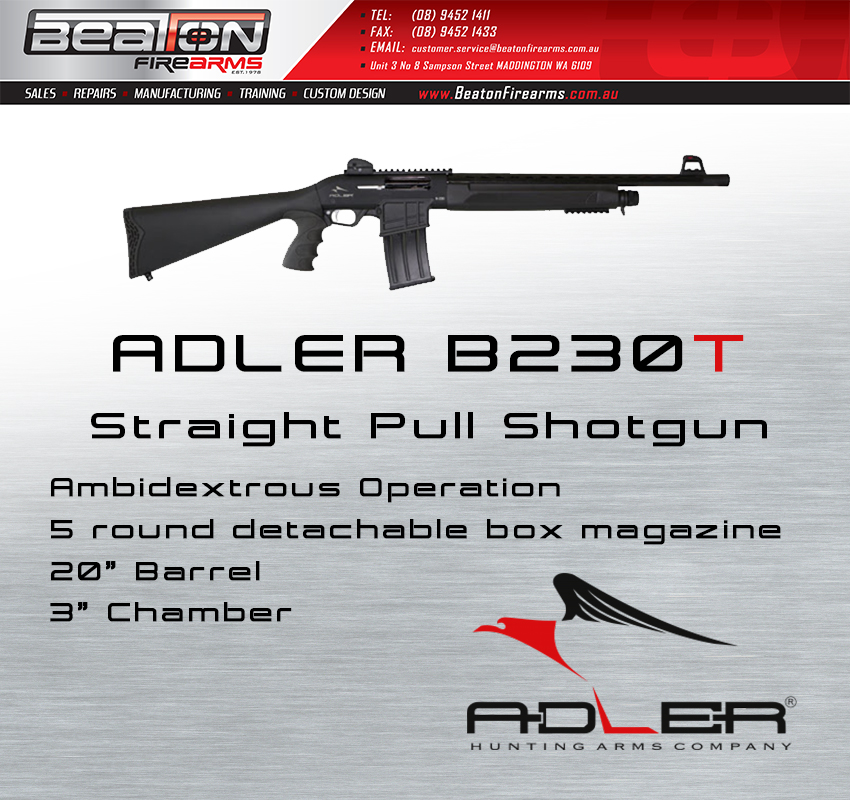 Adler B230T Tactical
5 round detachable box magazine
Ghost ring sights
Black synthetic stock with pistol grip & sling swivels
Matte black finish
Now only $795!
We're expecting some big things from this new shotgun, and they're already selling fast! If you want one of these, we'd recommend ordering yours asap.
At this stage we're expecting to start seeing these arriving into the country in 10 weeks, so we'll have more information, photos, and first-hand experience very soon!