MDT HNT26 Chassis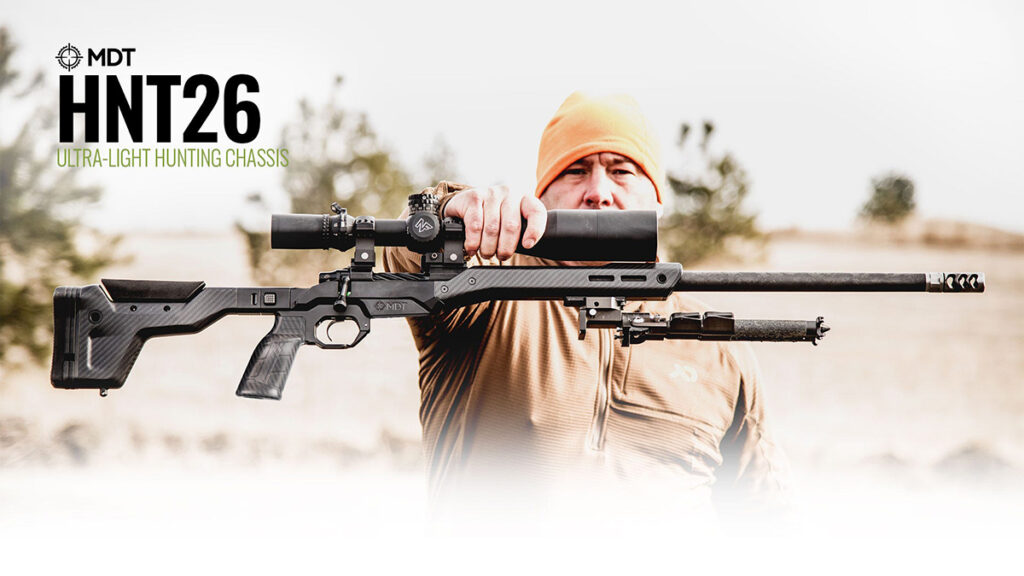 MDT chassis have been the fore-runner in modern, tactical chassis systems across the world, and they are very popular choice for both hunter and target shooters in WA, but it is no secret that they tend to be quite heavy and bulky, leading many hunters to prefer the traditional wooden or synthetic stock options. However, MDT's latest chassis offering is targeted directly at shooters seeking a lightweight alternative while keeping all the modularity and compatibility benefits offered by most chassis systems.
The primary market for the new HNT26 chassis is right there in the name. Designed with hunters in mind, the HNT26 is made to suit shooters who hunt on foot, through environments where most chassis systems are prone to snagging on brush or foliage. Built on a magnesium alloy base, the HNT26 chassis uses a considerable amount of carbon fiber in its construction, with an enclosed carbon fiber fore-end, AR-pattern carbon fiber grip, and a foam-filled carbon fiber butt stock, designed to absorb felt recoil and vibrations. Naturally, the folding stocked versions aren't available to us in WA. As with most modern chassis systems, the HNT26 takes the typical AI-pattern magazines, giving shooters a lot of flexibility in that department.
It is pretty hard to imagine a quality rifle chassis weighing less than 2kg (rough weight of an MDT XRS or ESS chassis), but the fixed-stock version of the HNT26 chassis comes in at just over 700g! This of course doesn't include the weight of the rifle, scope, and loaded magazine, but it is definitely comparable to your typical synthetic-stocked hunting rifle.
Available to suit most right-hand Remington, Savage, and Tikka action inlets, the HNT26 chassis looks pretty slick with the optional flush-fitting 3-round magazine, and comes in either a black/natural carbon fiber or cobalt green finish. We are expecting to start seeing these in the fourth quarter of this year, but if this looks like the kind of thing you'd like to put on your rifle click here to learn more!