"If you can see a repair, it hasn't been done correctly"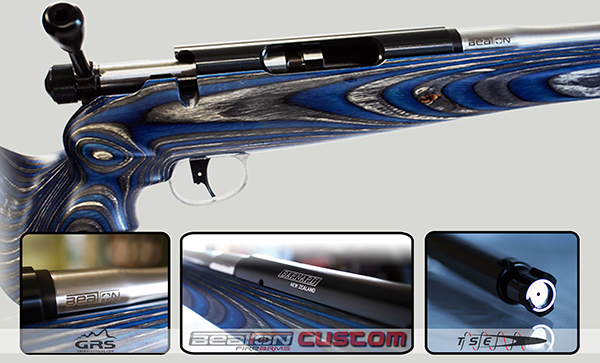 Firearms are a beautiful blend of craftsmanship – The finish on the metalwork, the shape of the stock, the fit of the barrel into the barrel channel. A gun should look like it was never touched by man – it should look like it was dug out of the ground in its' perfect form. This is the philosophy we try to adhere to.
There are a lot of common things that can be done to achieve this. Any scratches or marks are signs of machining and should be polished out. Overruns on checkering, gaps between the stock and action, or different colours in finishes are all imperfections that deteriorate perfection.
There are two principals we work to when trying to achieve the best finish we can:
1. Hide It
Whether it be a crack in a stock, the fitting of a muzzle brake or machining marks on the metalwork, the first question that should be asked is "Can we hide it?" And when I say hide, I don't necessarily mean make it invisible. You can't hide a muzzle brake, a black kick pad or scope bases, but you can do your best to blend them in.  Kick pads should follow the shape of the stock. They should not be ground square to the line of the stock.
Muzzle brakes should be tapered to blend into the profile of the barrel. There shouldn't be a "step" between the brake and the barrel.
Scope bases should be the same finish as the action and the same colour.
If worked on immediately, cracks in the stock will disappear. Pins should be placed so they are hidden under the metalwork when the gun is reassembled. In some instances, breaking the stock in two and repairing it internally will produce better results than trying to work with a bad external crack.
2. Make It Stand Out
Our goal is to make the repair not look like a repair. It therefore makes sense that if a repair can't be hidden, that it should be made to look like it belongs.
If we can't get rid of a dent in a stock by sanding it out, then we carve it out and place an inlay. We do not replace it with a piece of wood, as this stands out as an obvious repair. Steel or ivory are options that work well.  Black ebony is also a popular choice.
The same principal can be used for barrels. A gloss blue action and matte blue barrel doesn't look aesthetically pleasing, like a burnt orange interior in a blue car, pineapple on a pizza or Donald Trump wearing a G-string.  A gloss stainless barrel stands out and looks much better than a mismatched finish.
This principal is also applicable to more contemporary designs. Tactical rifles with black barrels and actions with black stocks and black scopes are just TOO black. There's no definition in the gun and it's this physical definition that gives a gun life. Having another feature colour in the build, even if it's only a bit of subtle grey will make a rifle pop.  Dark Earth, Tan or Green is also popular.  This is evident with McMillan marble – adding 5 – 10% of grey, dark blue or red to the mould breaks up an otherwise monotonous finish.
Some people will say that this is a matter of opinion and this point of view is fine. Incorrectly ground recoil pads, broken lines in barrel tapers, oversize muzzle brakes and rounded off check-pieces may be appealing to some people. For me to label these as "ugly" is just my own personal opinion.  People who disagree with my opinion are free to return to their burnt orange interiors, their pineapple pizza and hairy, g-string wearing heroes.
To the rest of you I say – next time you are considering a repair, if you can't hide it, make it stand out.
Words by Zaine Beaton
If you wish to comment or provide feedback on Zaine's blog you can contact him via the email address –zaine@beatonfirearm.onpressidium.com
This email address is for contacting Zaine in direct relation to blog articles only – not for general correspondence or sales inquiries.  For sale inquiries, please visit our Contact Us page.