So the Lithgow LA102 has been out for a little while (5 years now) and it's an interesting gun. Taking many ideas from other reputable gun manufacturers such as Tikka and Sauer, The Lithgow has a fat bolt design with 3 locking lugs that is smooth and strong.  There's nothing about the Lithgow that's revolutionary or particularly innovative, but one interesting thing that we noticed is that it takes Tikka magazines.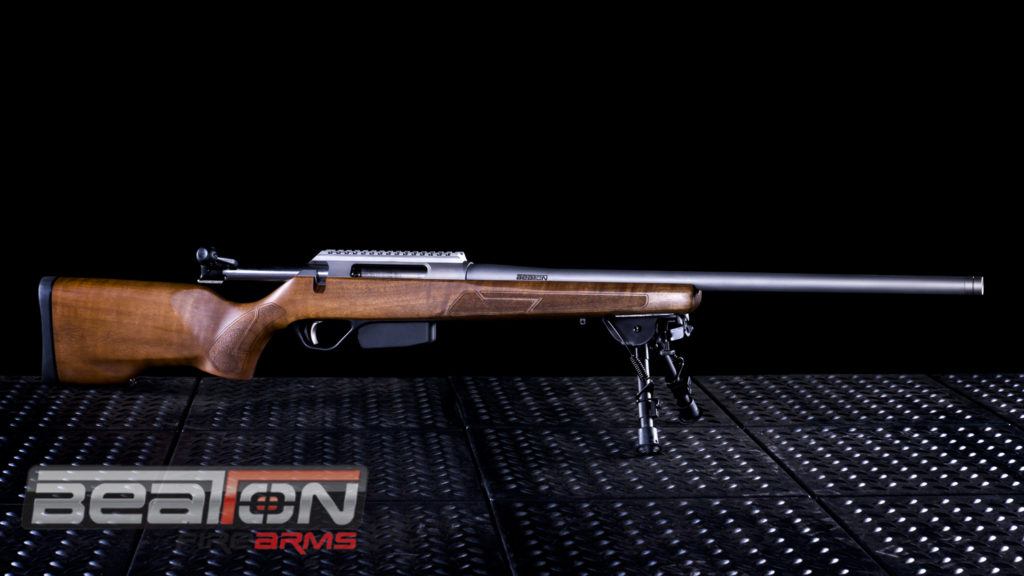 This might seem like a relatively mundane aspect given that there are so many things going on with this rifle.  But a lot of the time it's getting a magazine to feed that prevents caliber conversions.  For example, the PPC series of cases are fatter than a 223 case, but smaller than a 308, and need a magazine longer than a 223 magazine but shorter than a 308 magazine to work.  It's a nightmare (unless you're building a single shot, which is boring).
The Lithgow 102 in chambered in 223 Remington, 243 Wincehster, 6.5 Creedmoor and 308 Winchester.  No long action calibers.  No magnum calibers.  But because it takes Tikka magazines, a Tikka 300 win mag magazine will clip straight in.  It was this realization that got the gears in my noggin turning a couple of years ago.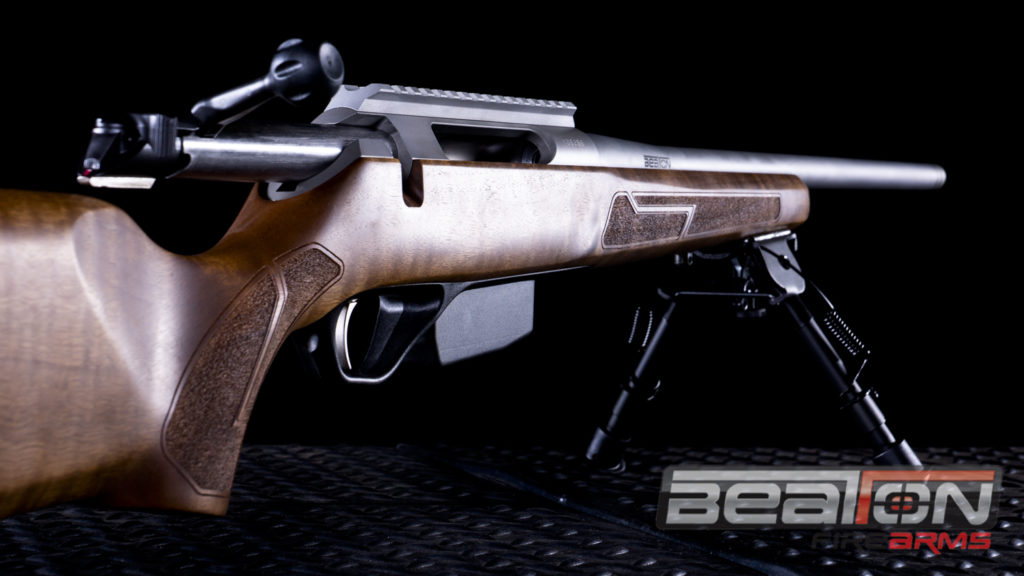 The first rifle we slapped a 300 win mag magazine into was one of the stainless walnut Lithgow LA102's.  Because we were working in uncharted territory, I knew that I was going to mark something – I didn't know how tight the barrel would be in the action; How tough is the Cerakote is; Will I damage the finish in the lathe? It was easy for me to sandblast the barrel on a stainless-steel gun to bring it back to new.
The process itself wasn't without its surprises.  It wasn't until I pulled the barrel out that I realized the action locking lugs are a separate part and that the front stock screw went into the barrel.  But it all came together well.  Sandblasting removed all the engraving including the Lithgow logo on the side of the action, but David (our marketing guy) was able to get me a nice crisp Lithgow logo to engrave back onto the side of the action.  We thought about doing a Lithgow/Beaton mashup logo and engraving that, but at the end of the day it's their action.  I was happy to just have by name down the barrel.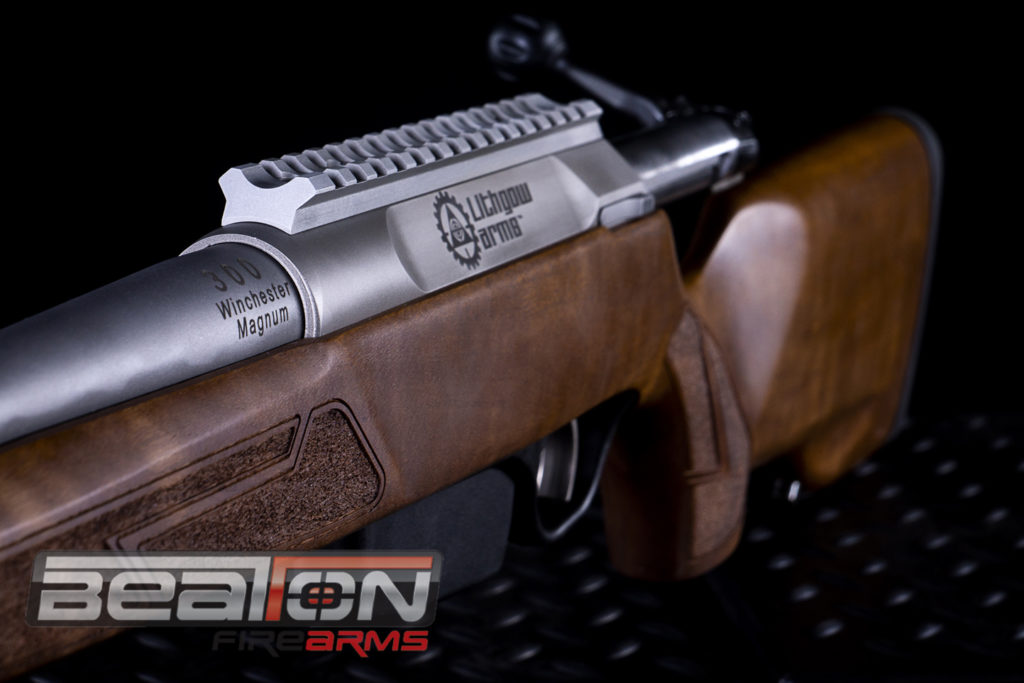 A couple of proof rounds to test this rifle for strength and it was off to Billy Farm for some long-range shooting.  We ran a Marksman course for a couple of clients late in March, which gave us a little time to sight in some rounds we loaded – 190 grain Nosler Custom Competition with a stiff load of AR2225 was what the doctor ordered.  The standard deviation in velocity of the rounds we tested was only 5.9 – very consistent and perfect for long range shooting.  Everyone present knew this gun was on the money when the first round made the 640-meter steel target scream and swing with the first round.  The 1030-meter target was subject to the same punishment.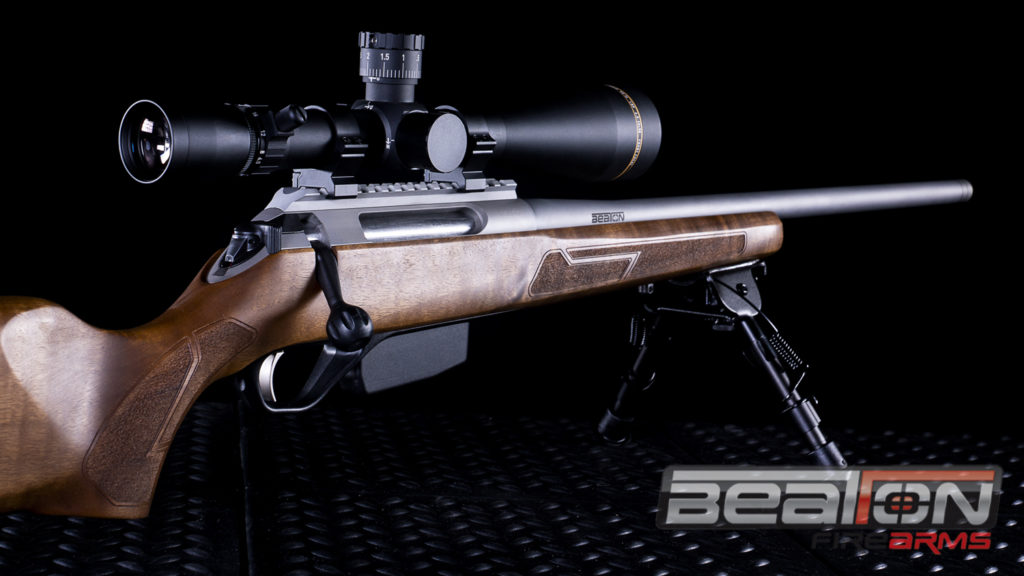 This rifle had no problems on the long-range targets.  However, the short barrel did let the gun down a little.  The same rounds fired through Bill's Sako TRG (with a 26" barrel, as opposed to the Lithgow 22") were travelling almost exactly 100 meters per second faster than the Lithgow.  This resulted in the Lithgow having almost three and a half meters of extra drop (almost 40% more) at 1030 meters.  In fact, the projectiles fired through the Lithgow on the day entered the transonic zone at 950 meters, while the same round through the TRG is still supersonic at 1130 meters.  This only matters if you are planning to shoot this far, but it's still evidence that, if a 300 win mag Lithgow became a thing, it would benefit from having a longer barrel.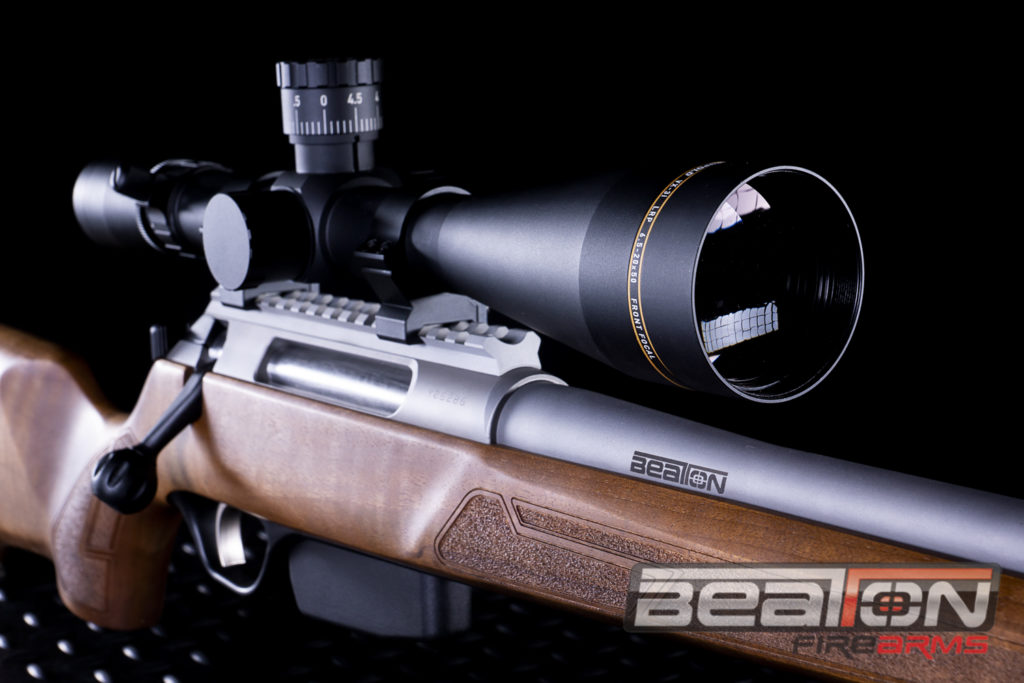 The other critique I had for this rifle is the barrel twist.  Following Tikka's lead, this barrel has a 4 groove 1/11" twist rate.  This does limit projectile choice, but then this barrel was never manufactured to fire 300 win mag cartridges.
I could have replaced the barrel with a 26" 1/10"twist barrel.  But this would add another $1000 to the price of the gun, which becomes unattractive to many people.  Given that this was always meant to be an experiment, this gun performed exceptionally well.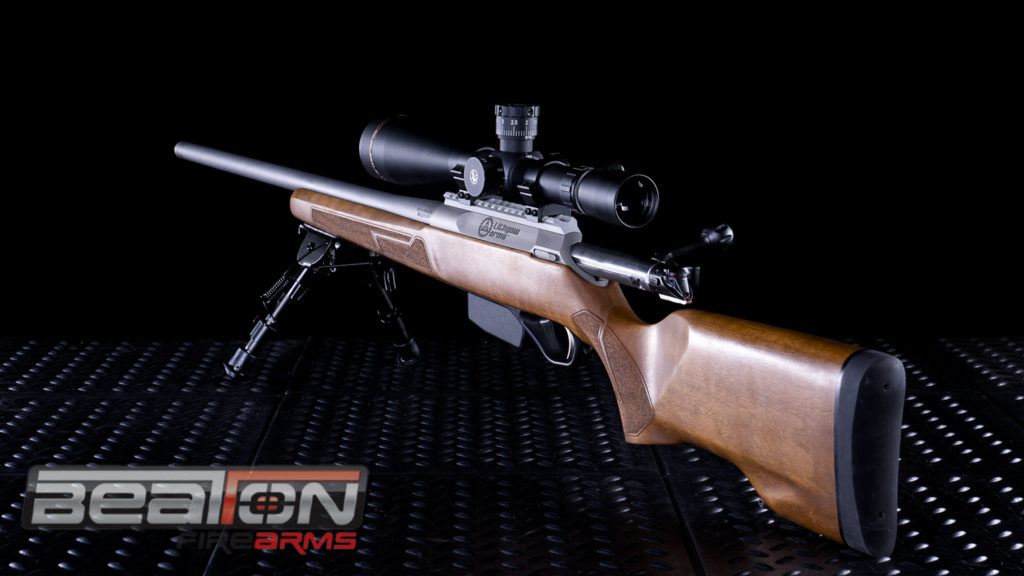 I'm very happy with how this project turned out.  The first rifle has an offer on it at the time of writing this and will probably be sold by the time this goes to print, but if you would like a unique rifle such as this built for yourself, you need only ask.
The 300 win mag was chosen for this build because I could use the factory barrel.  Speaking to Lithgow about this rifle, one of the other calibers which would be attractive and would be able to be built without a barrel replacement would be 6.5 PRC.  Other caliber conversions can be done, though they would require replacement barrels.  These include;
6mm Remington, 25/06, 6.5 x 55, 6.5-284, 270 Winchester, 7mm Rem Mag, 338 Win Mag, 375 Ruger and many others.  Got a caliber in mind?  Ask us if we could build if for you.
Zaine Beaton