20 cal Squeeze bore – Part 1
A squeeze bore, or extruder firearm is one that fires a projectile that is larger than the rifling diameter of the barrel. When the projectile is fired it is able to gain momentum before being forced through a tapered section of the barrel, squeezing the projectile down to the barrel diameter. This generates more chamber pressure, which generates more velocity.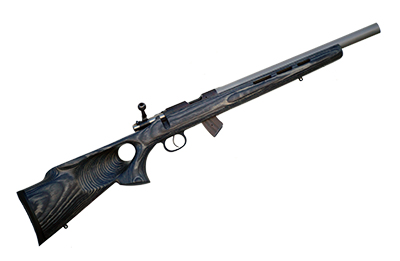 22 long rifle (.22lr) is a common squeeze bore rifle. They fire normal 22 long rifle ammunition, subsonic or supersonic. We've played with squeeze bore rifles in the past but we've never gone through with a step-by- step on the whole build process. This is part 1 of a 22lr / .204 squeeze bore build that we are doing for a client.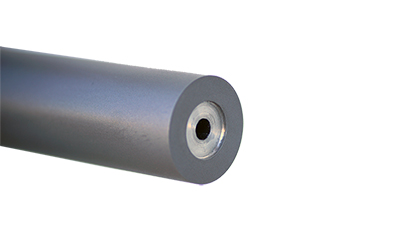 The 22 long rifle cartridge fires a lead projectile around .222 to .223 in diameter through a normal corresponding barrel which has a twist rate of 1 turn in 16 inches. When fired through a .204 squeeze bore barrel the projectile diameter is reduced almost half a millimetre – this makes the projectile much longer than it originally would have been. The longer a projectile the faster it must be spun to stabilise it in flight (called gyroscopic stability). If the projectile is not spun fast enough it will 'yaw', which will cause the projectile to tumble.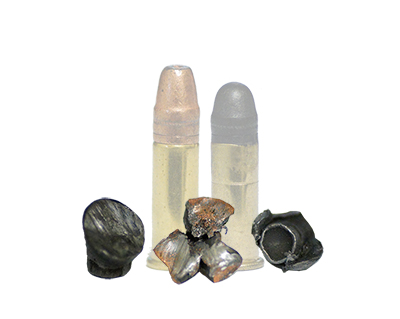 The 20 calibre barrel that we used for this build has a 1/10"twist rate, which should stabilise these extruded projectiles. 20 calibre rifles commonly shoot projectiles around 40 grains in weight – the suppressor cartridges by CCI and Federal that we will be testing are the only projectiles heavier than this.
When firing projectiles through squeeze bore rifles there is obviously an increase in peak pressure. Without using a strain gauge we are unable to work out exactly how much extra pressure occurs. For an extruder build such as this the pressure wouldn't be significantly more, but until we can establish exactly how much extra pressure occurs we are going to play it safe and build squeeze bore rifles on strong, modern rifles. The client that requested this build wanted it built on his CZ 452, which is a strong, twin-lug bolt action.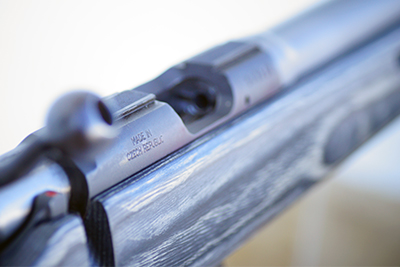 The barrel that we sourced was manufactured by Total Solutions Engineering (TSE) from stainless steel. It was hand lapped by TSE when it is finished, which improved the internal finish of the rifling and reduces fouling.
Chrome molybdenum barrel (Barrels that can take the traditional blue finish) cannot be manufactured in 20 or 17 calibre due to the increased stress on the barrel manufacturing tools.
Extra care needs to be taken when chambering squeeze bore barrels. The pilot on the reamer is very long and thin – due to their hardness reamers are notoriously fragile and can chip very easily. Even more so with squeeze bore reamers. Only a small amount of material can be removed before the reamer must be removed from the barrel and the chips of steel brushed clear. This isn't a stage in the process that should be rushed.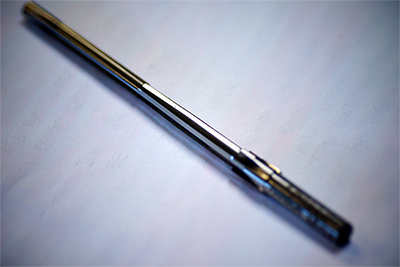 Once we had the barrel fitted we cut it down to the desired length (the customer wanted a 16.5" barrel – the shortest allowed by Western Australian Police Licensing). This makes for a very handy rifle.
The next part of the squeeze bore blog we will be talking about the cartridges tested, performance, speeds and more.
–  Zaine Beaton
If you wish to comment or provide feedback on Zaine's blog you can contact him via the email address –zaine@beatonfirearm.onpressidium.com
This email address is for contacting Zaine in direct relation to blog articles only – not for general correspondence or sales inquiries.  For sale inquiries, please visit our Contact Us page.
Please keep in mind that these are Zaine's personal comments – they are not a reflection of the opinions of any other staff or directors of Beaton Firearms.