Savage Impulse Straight-Pull Rifle
Savage Impulse Straight-Pull Rifle
Straight-pull rifles aren't a new thing, but they are at this price point. Rifles like the Browning Maral, Merkel RX-Helix, and Blaser R8 have long been popular with hunters world-wide, but their prohibitive price-point has kept them out of reach for mainstream shooters; until now.
The benefits of a straight-pull bolt action rifle are generally self-explanatory – the bolt unlocks, extracts, ejects, reloads, and locks up, all in one swift, back-and-forth motion. No need to rotate the bolt handle, no need to take your cheek off the stock, and no way the bolt handle will hit your scope. A straight-pull bolt action lock-up can be achieved using many different mechanisms; Savage calls theirs the "HexLock" system. Utilising 6 ball bearings, the action locks up evenly when the expanding pressure of a fired cartridge is applied to the bolt face, making this a safe and reliable system, even for magnum cartridges.
While this action is only available with right-hand ejection, the bolt handle is fully adjustable and can be rearranged for left-hand operation. The safety is also ambidextrous, as is the magazine release on the Predator model. This only adds to the already impressive list of Savage features that come standard on the Impulse, including the AccuStock polymer stock built around a rigid aluminium chassis, AccuFit adjustable comb height and length-of-pull system, and AccuTrigger user adjustable trigger.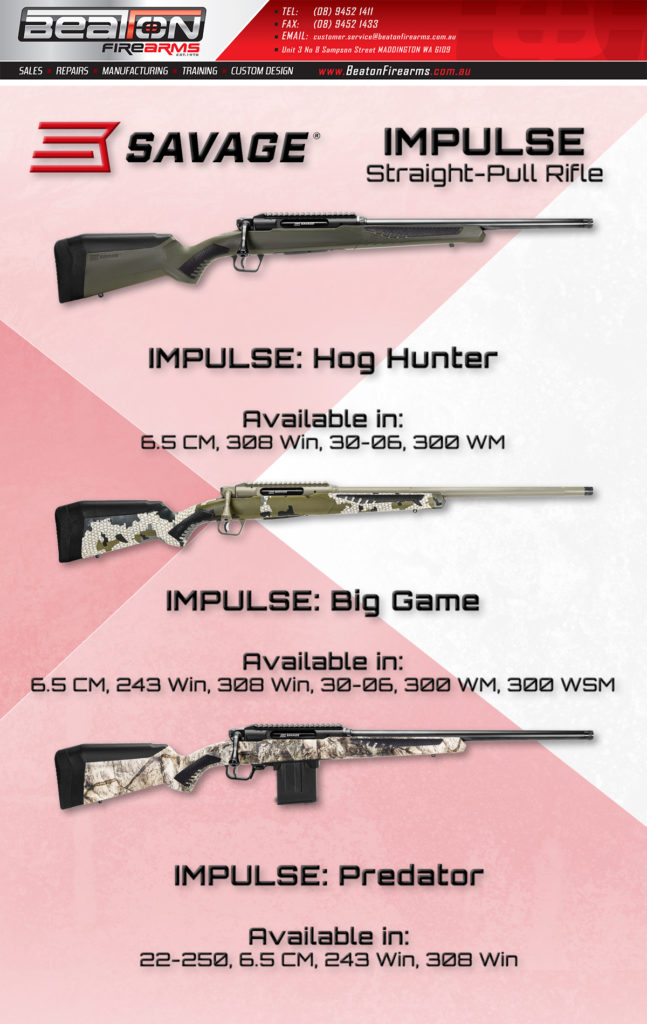 IMPULSE: Hog Hunter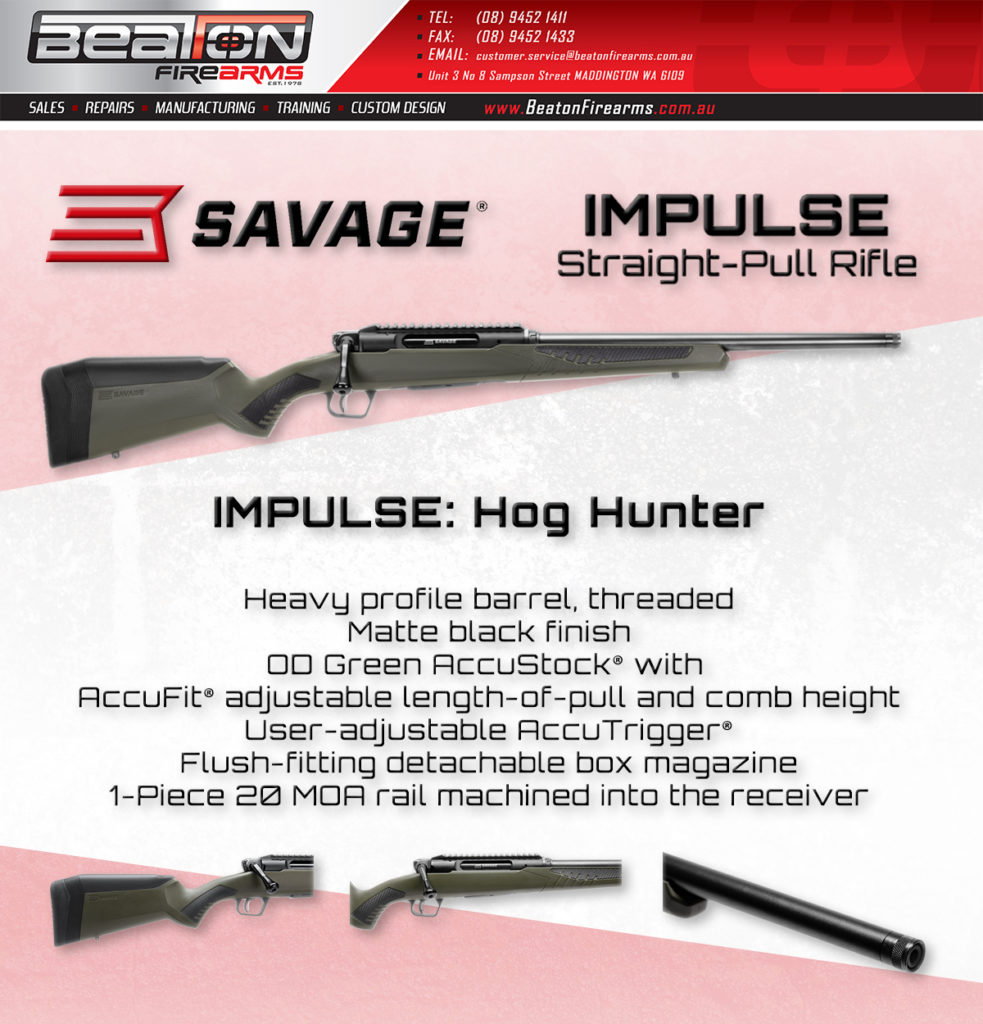 Following the standard "Pig Rifle" pattern, the Savage Impulse Hog Hunter is a plain, no frills rifle with a short barrel and covers the more popular pig hunting cartridges. The barrel profile on this one is heavier than the others too, and I quite like the OD Green/Black finish combination.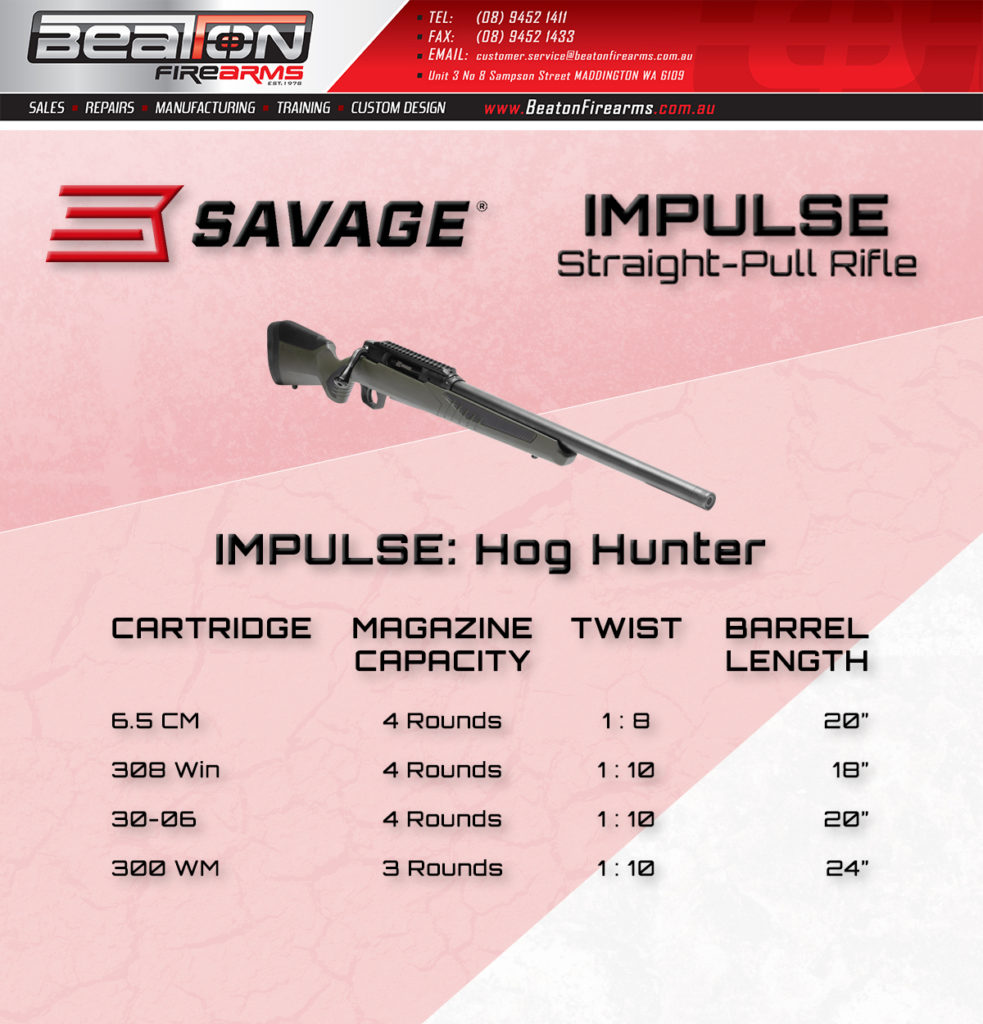 IMPULSE: Big Game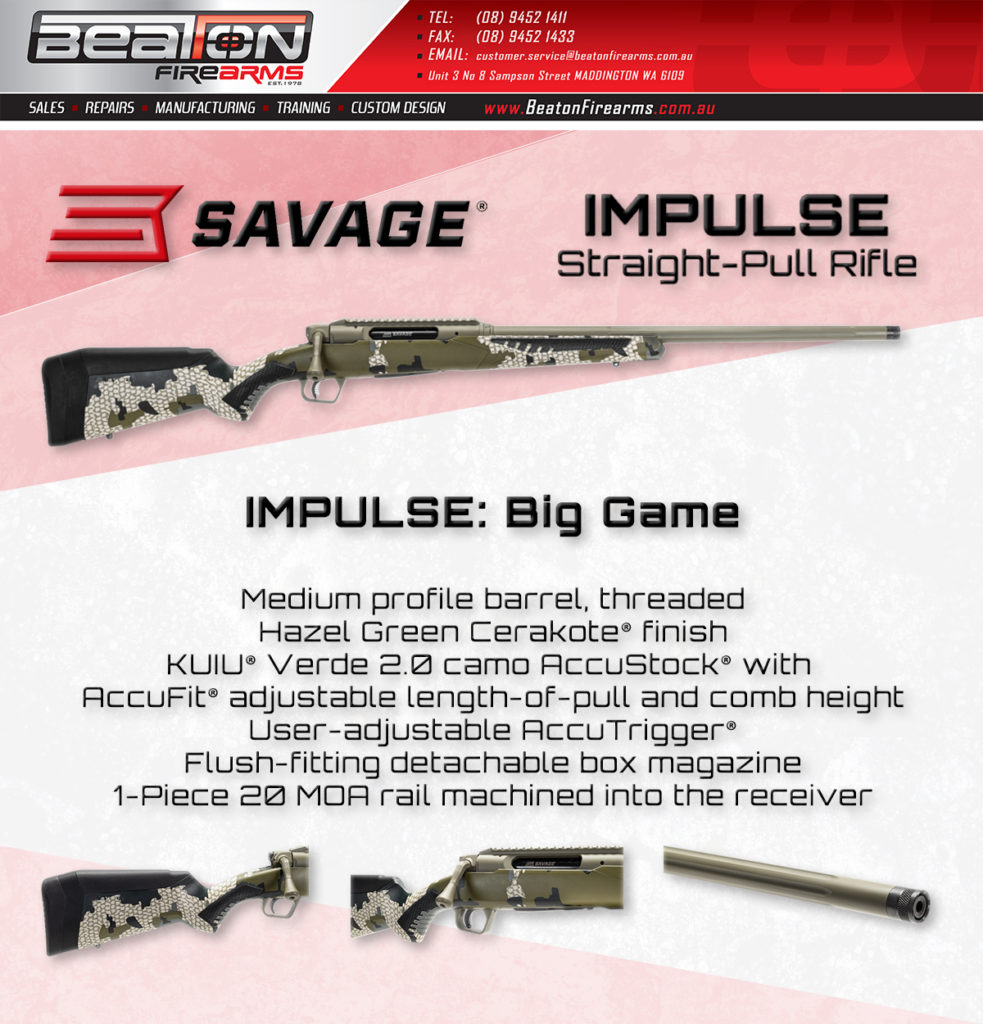 The Savage Impulse Big Game model comes in a much wider range of cartridges than the other two models, from .243 all the way up to .300 WSM. With its longer barrel lengths combined with all the other Savage features it might make a good target rifle; if you like your stocks to be covered in bold camouflage, that is. The fluted barrel and Cerakote finish is a nice touch though.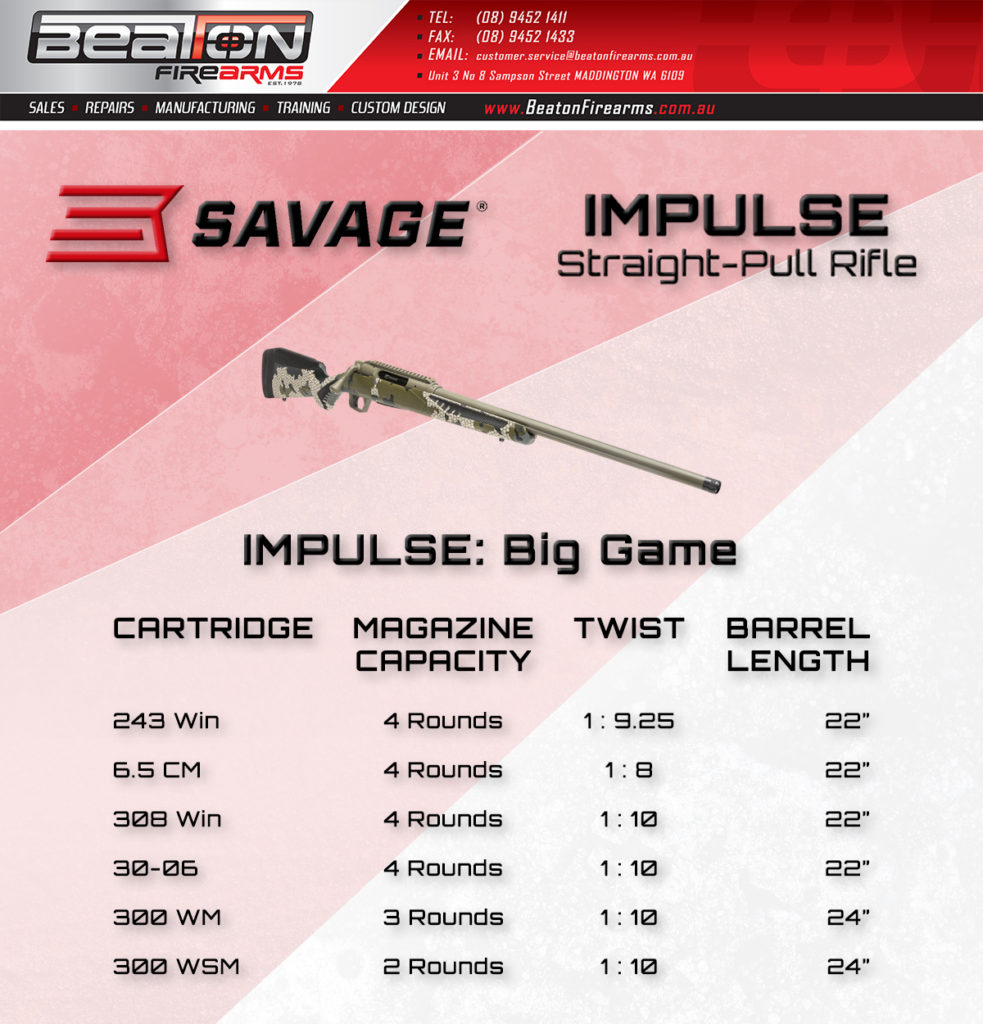 IMPULSE: Predator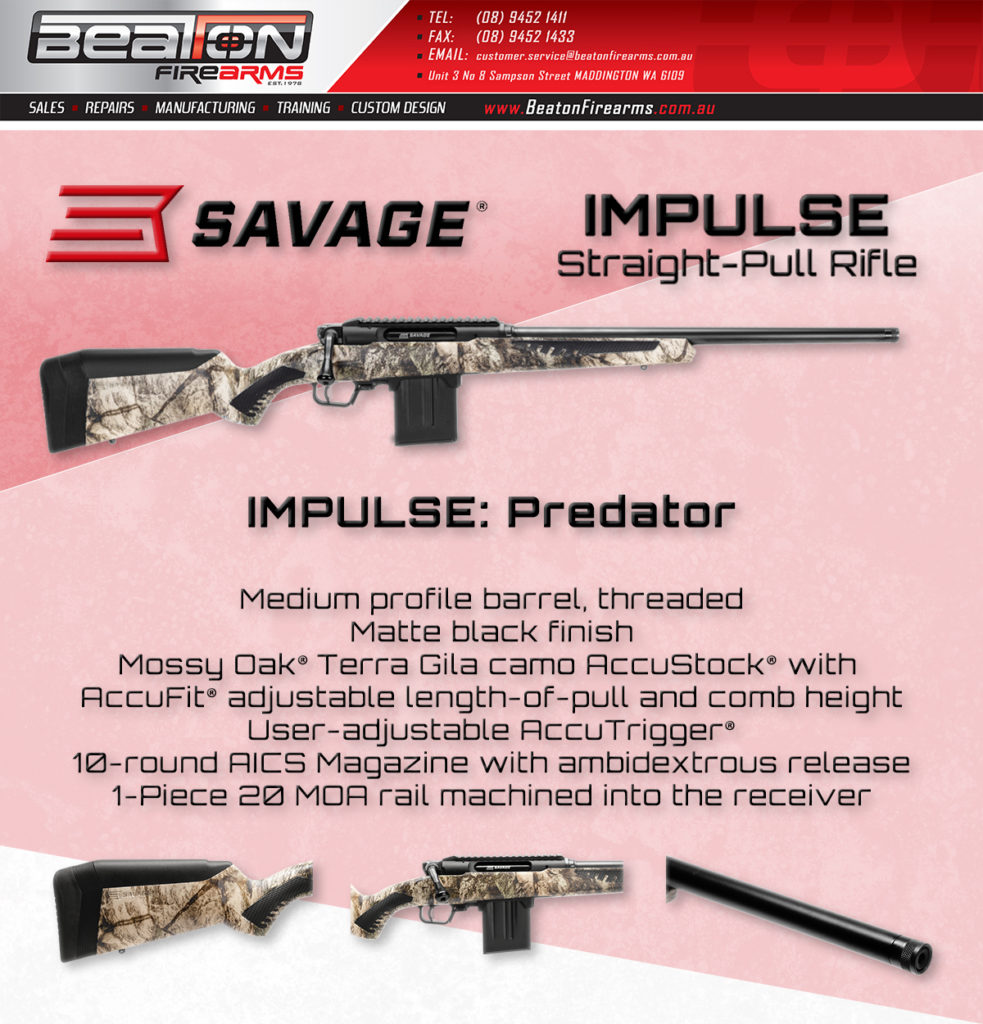 We think the Impulse Predator is going to be the best seller of the bunch. Covering a wide range of popular short-action cartridges, the Predator combines a handy barrel length with a 10-round AI pattern mag. It even comes in 22-250 – what more could WA hunters ask for?