CZ 457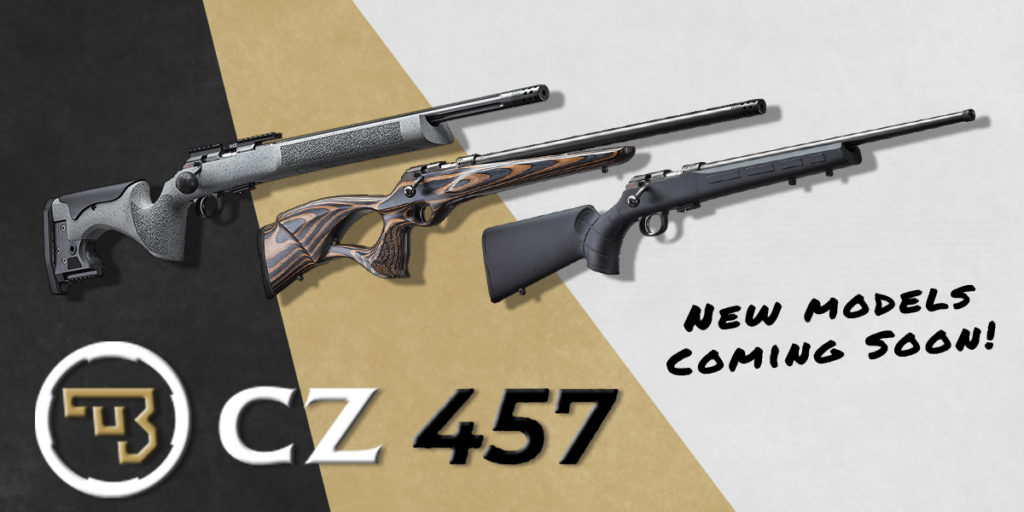 We are excited to announce three new rifles to the 457 range from CZ! A step ahead of its competition, the 457 line brings improvements in safety, durability and accuracy.

CZ 457 Synthetic
Soft touch finished stock
Extremely durable nitride finish
CZ 457 Synthetic combines metal parts of the CZ 457 AMERICAN with a new synthetic stock made in the American style. The stock features a soft touch coating to make holding more comfortable with a finer texture on grip surfaces. The top of the receiver is machined with a 3/8" wide dovetail groove for mounting standard rimfire dovetail mounts.
Available in .22lr
20″ barrel
5 round magazine

CZ 457 Varmint Thumbhole
Ergonomic laminate thumbhole stock
1/2×20 UNF Threaded varmint-profile barrel, fitted with compensator
For shooters tired of traditional stocks, modern thumbholes bring ergonomics that a classic stock designs can't match. Made of a high-strength laminated wood, the 457 Thumbhole has an attractive alternating pattern of grey and brown layers with a distinctive built-in trigger guard. A newly-developed stock shape with perfect ergonomics and symmetrical features enables it to be supremely comfortable for both right-handed and left-handed shooters.
Equipped with a cold hammer forged varmint-weight barrel (20" barrel for .22 lr, .17 hmr or .22 wmr, 16" barrel for .22 lr only), the 457 Thumbhole will entice shooters to engage targets at medium and long distances for rimfire chamberings. Mounting of a scope is made easy with an 11mm dovetail integrated into the top of the receiver.
Available in .22lr
20″ barrel
5 round magazine

CZ 457 Long Range Precision
Adjustable and ergonomic target stock
25MOA optics rail
1/2×20 UNF Threaded, fluted, varmint-profile barrel, fitted with compensator
Built for shooters who want to exploit the extraordinary accuracy potential of the CZ 457 to its fullest, the LRP is tuned to enable hits on target at extreme distances – assuming the shooter does their part!
Equipped with a 20" fluted varmint barrel, the LRP borrows the MATCH chamber that was originally exclusive to the 457 MTR. This supremely-accurate barrel has a threaded muzzle (1/2×20 UNF) and is topped off with a compensator.
The LRP's target-style stock bears a soft-touch finish and has a prominent pistol grip, extended forend, textured grip surfaces and a prominent rear hook designed to cradle the shooter's support hand. For those desiring to add a rear monopod, a rail is also present at the toe.
Adjustability abounds, with length of pull able to be tuned with the three included spacers (351-382 mm), while the height of the comb and the buttpad are also user-configurable.
Also included in the LRP package is a 25 MOA Weaver-style rail (with built-in inclination that enables sighting in at longer distances), an oversized bolt knob, 5-round magazine and a premium 4M rifle case.
Available in .22lr
20″ barrel
5 round magazine

CZ 457 American
Available in .17hmr, .22lr, .22wmr
24″ barrel
5 round magazine

CZ 457 Beech Wood
Available in .17hmr, .22wmr
20″ barrel
5 round magazine

CZ 457 Jaguar
Available in .22lr
28″ barrel
10 round magazine

CZ 457 Lux
Available in .22lr
24″ barrel
5 round magazine

CZ 457 Premium
Available in .17hmr, .22lr, .22wmr
24″ barrel
5 round magazine

CZ 457 Royal
Available in .22lr
16″ or 20″ barrel
5 round magazine

CZ 457 Trainer
Available in .22lr
24″ barrel
5 round magazine

CZ 457 Varmint
Available in .17hmr, .22lr
20″ barrel
5 round magazine

CZ 457 Varmint MTR
Available in .22lr
16″ or 20″ barrel
5 round magazine